Fishing Charters in Hervey Bay
Fishing charter and tour operators
Looking for a Fishing Charter to experience the best of deep water fishing without the rough ride of open water? Hervey Bay is the best place in Australia to do just that!
Here we have compiled a list of reputable tour operators with whom you can be assured of a great day out on the water in Hervey Bay and you never know, you just might land that BIG ONE!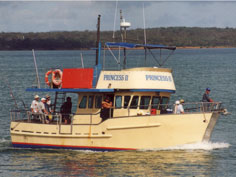 Enjoy a great day fishing and cruising the calm waters of Hervey Bay. Spotting dolphins at play or the occasional large sea turtle or dugong is an added bonus.Princess 11 offers a clean, comfortable and unique way to experience Hervey Bay and the Great Sandy Straits and provides a dress circle view of Fraser Island, the world's largest sand island. Our waters are so pristine even the whales come here to play.
---